Today's Deal:

Muddy Princess 5K - October 7 at Greenbrier Farms - NEW DATE AND LOCATION

Muddy Princess 5K Mud Run
Time left:
15
days
:
0
hrs
:
47
mins
Highlights:
Muddy Princess is an outdoor 5K obstacle mud run for women ONLY!
Featuring 8 to 12 obstacles

Lots of mud

Goody bag

A metal
Use code
Code:

10CODEN

to receive 10% off on the Muddy Princess. Purchase on their Eventbrite page HERE
NEW DATE AND LOCATION:
October 7 at Greenbrier Farms -
Description:
This event is for Princesses of all sizes, ages and fitness levels. We don't focus on fastest times or competitions, we focus on fun so be prepared to run, walk, crawl, climb, slide, balance and laugh your way along our course for an amazing "girls dirty day out!"
We have no limits on the size of your team, it can be as many Princesses as you can convince to join you for a day in the mud! Please don't feel excluded if you are entering as an individual, all of our Princesses are part of our Muddy Princess family and there will always be help and support to ensure everybody makes it over the obstacles and crosses the finish line at their own pace.
The event venue opens at 7:00am for registration with the first wave starting at 8:00am and continuing every 20 minutes (8:00, 8:20, 8:40 etc) up until the last wave of the day. Please choose your preferred start time when registering. Currently, there are time slots available at 9:20am, 10:40, 10:40, 11, 11:20, 11:40 and noon.
View the available time slots and learn more on their Eventbrite page

HERE
What you get: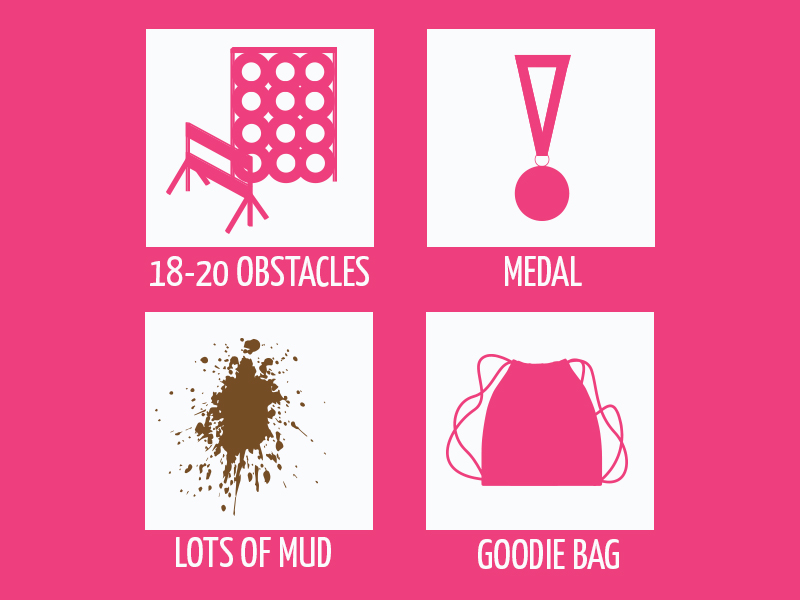 Spectators are welcome at no additional fee so bring your husband, kids and cheering squad. We have a Village where they can cheer you at the Start and celebrate you at the Finish Line. They can explore the food and drink stalls, or sit and relax while they wait for you to have your fun in the mud.

We have a Bag Drop ($5 on the day) where you can leave your stuff until you have completed the course. Parking will be $10 and VIP Parking is $20 (limited availability)

The minimum age for entry is 9 years young (under 13 must be accompanied by adult)

There will be a selection of food and drinks vendors available for your convenience so no additional food and drinks are allowed at the venue.
Fine Print:
No refunds. No exceptions.

About
Muddy Princess 5K Mud Run